*** The CrossFit Open Starts March 6th.***
Every CrossFit member from SinCity CrossFit South should register for the open. The Open is an all-inclusive worldwide competition that is for absolutely everyone, no matter what your age is or what your experience is. The CrossFit Open gives everyone the opportunity to participate in the moss exciting aspects of a CrossFit competition. For more information on the open and the road to the CrossFit games click this link http://games.crossfit.com/about-the-games
To register all you need to do is click here: Open Registration. Our team name is under South SinCity CrossFit.
Workout of the Day
"GATOR"
8 Rounds for time of:
5 Front squats 185/125
26 Ring push-ups
*** The weight will be cleaned from the ground. For members who can squat the weight but can't clean it, racks will be allowed.***
***Weight will be scaled accordingly. Scales for ring push-ups will be strict push-ups, then knee push-ups, then kipping push-ups.***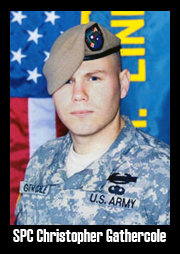 U.S. Army Specialist Christopher "Gator" Gathercole, 21, of Santa Rosa, CA, assigned to 2nd Battalion, 75th Ranger Regiment, based in Fort Lewis, WA, was killed by enemy fire on May 26, 2008, in Ghazni, Afghanistan.
He is survived by his brother Edward, sisters Jennifer Daly and Sarah Ferrell, father Edward Gathercole, and mother Catherine Haines.





.
Metcon
In 21 minutes:
Run 1 mile for time (4 laps),
Then immediately, with the remaining time you have left on the clock, complete the following for reps:
1 Box jump 24/20
1 Pushup
2 Box jumps
2 Pushups
3
3…
*Continue with this progression as fast as possible until the remaining time is up, 2 scores: your mile time and total reps of workout.