Jon Broz will be here for his Olympic lifting class this Saturday at 1pm. Be there or be WEAK!
The new skills cycle starts next week! If you have been in the metcon for a while it might be time to step it up and improve your results by moving to the wods!
Labor Day (Monday Sep. 2nd) Schedule….
The WOD and Metcon will be the same on Labor Day. Come to which ever class you would like.
9am-
10am-
12pm-
Workout of the Day
Deadlift 1-1-1-1-1
Then,
"DONNY"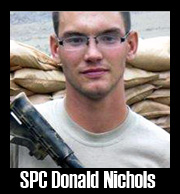 U.S. Army Specialist Donald L. Nichols, 21, of Shell Rock, IA, assigned to the 1st Battalion, 133rd Infantry Regiment, Iowa Army National Guard, based in Waterloo, IA, died April 13, 2011, in Laghman province, Afghanistan, of wounds suffered when insurgents attacked his unit using an improvised explosive device. 
He is survived by his mother and stepfather, Roger and Becky Poock; his father and stepmother, Jeff and Jeanie Nichols; and his brothers, Nick and Joe.
For time:
21-15-9-9-15-21
Deadlift 225/155
Burpees 
Post times to www.beyondthewhiteboard.com 




.
Metcon
10 Rounds for time:
Run 100m with Medicine Ball 20/14
5 Grasshoppers
10 Wallballs 20/14
5 Grasshoppers
Post times to www.beyondthewhiteboard.com